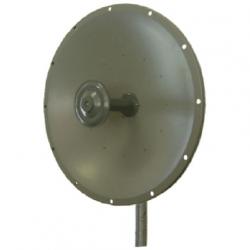 Specifications:
Parabolic Dish Antenna
Ideal for use with N-TRON®'s 702-W and 702M12-W Wireless Radios
Frequency: 5.8 GHz
Gain: 32 dBi
Comes St and ard with Type N Female Connector
Pole Mount Bracket Included
Document Downloads:
Data Sheet
Online purchasing is not available in this region. Please click here to locate a Red Lion distributor in your area.
This product is currently unavailable for online purchase. Please contact Customer Service at +1 (717) 767-6511 or customer.service@redlion.net for more information.