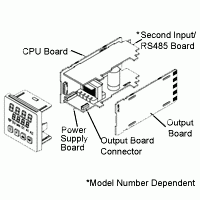 Specifications:
The T48 or P48 controller is supplied with an output board (relay, logic/SSR or triac) installed. The output board is configured for the type of Main Control and Alarm Output based upon the model number ordered. The output board is field replaceable in many models. (For models where the output board is not replaceable, the controller must be returned to the factory for output board repair.)This field replaceable relay output board is used with P4810000, P4810010, T4810000, T4810002, and T4810010. 
Document Downloads:
Product Manual
Online purchasing is not available in this region. Please click here to locate a Red Lion distributor in your area.
This product is currently unavailable for online purchase. Please contact Customer Service at +1 (717) 767-6511 or customer.service@redlion.net for more information.