Red Lion's Graphite® advanced operator panels are the industry's first HMI touchscreens to combine rugged yet aesthetically-pleasing all-aluminum construction with a modular I/O architecture. All of the Graphite models offer drag-and-drop protocol conversion, data logging and web-based monitoring and control. With UL Class 1, Division 2, ABS, ATEX and IECEx approvals, Graphite HMIs enable customers to connect, monitor and control processes in harsh environments.
Sleek touchscreen displays | Rugged operator panels | Flexible plug-in modules
Available in 8 different models | Remote monitoring and control | Converts over 300 protocols
Sleek. Rugged. Flexible.
No matter what you need your HMI to connect, monitor and control, we've got you covered with the new Graphite HMIs. It's one of the first HMIs that sleek, flexible and built for extreme conditions. Developed from our customers' feedback, Red Lion has taken HMIs to the next level. Graphite features include:
Attractive, Sleek & Easy to Use – Ideal for indoor and harsh outdoor environments, Graphite HMIs are available in 7 inch, 9 inch, 10 inch, 12 inch and 15 inch displays, with a relatively large screen that's easy to view even in direct sunlight. Its small footprint saves space and money.
Rugged Case for Extreme Conditions – Cast-aluminum housing means you can take Graphite HMIs into oil fields, wastewater plants or other extreme conditions without a worry. Built to operate in temperatures between -20 to 60 degrees Celsius, it's ideal for tough environments.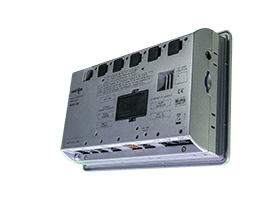 Flexible Modules Expand with Your Business – Graphite plug-in modules minimize development and commissioning times over traditional systems that use an HMI paired with separate I/O, PLCs and other controllers. Create a solution today that easily expands to satisfy your future business requirements.
Built-in Protocol Conversion – With a few clicks of the mouse, Graphite HMIs can be quickly setup to exchange data between all your connected devices. Select over 13 simultaneous protocols from a list of over 300 to integrate disparate devices such as PLCs, drives, barcode readers and panel meters.
Real-Time Data Logging – By logging real-time performance data, including productivity and output comparisons, you can implement process improvements or quickly pinpoint bottlenecks or chokepoints.
Remote Monitoring & Control – With the built-in Graphite web server, remotely monitor and control your application via PCs, tablets or smartphones. When problems occur, automatic SMS text-messaging and email alerts are sent to your maintenance team.
| Part # | Display Size | Indoor/Outdoor | Display | Serial Ports | Ethernet Ports | Expansion |
| --- | --- | --- | --- | --- | --- | --- |
| G07C0000 | 7" | Indoor | 800 x 480 | 3 isol. | 1 | 5 Module Slots |
| G07S0000 | 7" | Outdoor | 800 x 480 | 3 isol. | 1 | 5 Module Slots |
| G09C0000 | 9" | Indoor | 800 x 480 | 3 isol. | 1 | 6 Module Slots |
| G09C1000 | 9" | Indoor | 800 x 480 | 3 isol. | 2 | 6 Module Slots |
| G10C0000 | 10" | Indoor | 640 x 480 | 3 isol. | 1 | 7 Module Slots |
| G10C1000 | 10" | Indoor | 640 x 480 | 3 isol. | 2 | 7 Module Slots |
| G10R0000 | 10" | Indoor | 800 x 600 | 3 isol. | 1 | 7 Module Slots |
| G10R1000 | 10" | Indoor | 800 x 600 | 3 isol. | 2 | 7 Module Slots |
| G10S0000 | 10" | Outdoor | 640 x 480 | 3 isol. | 1 | 7 Module Slots |
| G10S1000 | 10" | Outdoor | 640 x 480 | 3 isol. | 2 | 7 Module Slots |
| G12C0000 | 12" | Indoor | 1280 x 800 | 3 isol. | 1 | 8 Module Slots |
| G12C1100 | 12" | Indoor | 1280 x 800 | 4 isol. | 2 | 8 Module Slots |
| G15C0000 | 15" | Indoor | 1024 x 768 | 3 isol. | 1 | 8 Module Slots |
| G15C1100 | 15" | Indoor | 1024 x 768 | 4 isol. | 2 | 8 Module Slots |