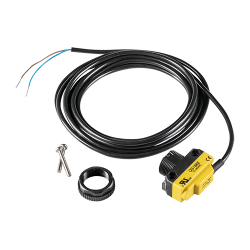 Specifications:
Opposed Beam Emitter, Requires Opposed Beam Receiver
Infrared Modulated LED Light Beam
10 to 30 VDC Power
NPN Outputs
Various Mounting Brackets and Reflective Targets
NEMA 6
Accessories
Click on the accessory types below to view accessories related to this product.
Mounting Brackets
MBMAB200
-
Right-Angle Mounting Bracket for Photo-Electric Sensors
MBMSB200
-
Side-Mount Bracket for Photo-Electric Sensors
Targets
Online purchasing is not available in this region. Please click here to locate a Red Lion distributor in your area.
This product is currently unavailable for online purchase. Please contact Customer Service at +1 (717) 767-6511 or customer.service@redlion.net for more information.