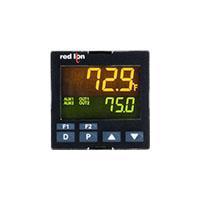 Specifications:
PID Control
Main Control Relay
Secondary Control Relay
RS-485 Communications
2 Programmable User Inputs
Accepts TC and RTD
Accepts 0-10 V, 0/4-20 mA or 0-50 mV Signals
On Demand Auto-Tuning of PID Settings
2 User Programmable Function Buttons
Dual Relay Alarms
PC or Front Panel Programming
1/16 DIN Size
Controllers Meet IP65 Requirements
100 to 240 VAC Power Input
Process Control Discrete Inputs:
Accessories
Click on the accessory types below to view accessories related to this product.
Enclosures
ENC11000
-
ENC11- NEMA 4/IP65 1/16 DIN Enclosure
ENC11A00
-
ENC11A- NEMA 4X/IP65 Enclosure for one 1/16 DIN Meter
ENC11B00
-
ENC11B- NEMA 4X/IP65 Enclosure for two 1/16 DIN Meter
Programming Kits
PGUSB485
-
PGUSB485 - USB/RS485 Communication Interface (Programming Kit)
Pages
Online purchasing is not available in this region. Please click here to locate a Red Lion distributor in your area.
This product is currently unavailable for online purchase. Please contact Customer Service at +1 (717) 767-6511 or customer.service@redlion.net for more information.