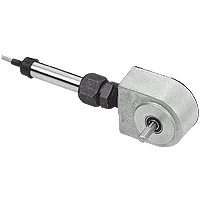 Specifications:
100 PPR
Rugged Aluminum Housing
Sealed Ball Bearings
Various Pulse Per Revolution
3/8" Dia. Stainless Steel Shaft
Single & Double Ended Shafts
Mounting Hinge Clamp Assembly Available
Replaces LSQS and LSQD series
Accessories
Click on the accessory types below to view accessories related to this product.
Sensor Accessories
LSAHC001
-
LSAHC- Hinge Clamp Assembly for Length Sensors
Wheels
Document Downloads:
Product Manual
Dimension Drawing
Online purchasing is not available in this region. Please click here to locate a Red Lion distributor in your area.
This product is currently unavailable for online purchase. Please contact Customer Service at +1 (717) 767-6511 or customer.service@redlion.net for more information.