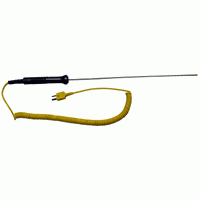 Specifications:
Thermocouple Probe, Type K
Maximum Temperature 2102° F (1150° C)
Inconel 600
Hand Held
Flexible and Abrasion Resistant
Smooth, Rounded Tip on "Hot" Side
Male High Temperature Standard Size Ceramic Connector on "Cold" Side
Online purchasing is not available in this region. Please click here to locate a Red Lion distributor in your area.
This product is currently unavailable for online purchase. Please contact Customer Service at +1 (717) 767-6511 or customer.service@redlion.net for more information.