DNP3 Standard Improves Communication to Save Time and Reduce Costs for Utility Applications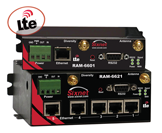 York, Pa. – February 26, 2013 – Red Lion Controls, global experts in communication, monitoring and control for industrial automation and networking, today announced the addition of the distributed networking protocol, version 3 (DNP3), to the company's Sixnet® RAM® 6000 series of industrial cellular routers. DNP3 is an industry standard for communications in electric utility, water, oil and gas applications that require time-stamped data.
By enabling data exchange with all types of I/O units, the RAM DNP3 slave driver delivers improved data collection and monitoring from a wide range of equipment in industrial settings. Customers benefit from DNP3 through improved communication and efficiency, helping to save time and reduce costs.
"Adding DNP3 to the Sixnet RAM 6000 not only reduces costs, but also conserves space. Customers will not need additional gateways to get DNP functionality – it's built right into the RAM unit," said Mahesh Patel, Director of Wireless Product Management at Red Lion Controls. "DNP also helps customers with maintenance because you can quickly identify where faults may be in a system and take action."
As a set of protocols used between components in process automation systems, DNP3 plays a key role in SCADA systems where it is commonly used for communications between SCADA master stations, Remote Terminal Units (RTUs) and Intelligent Electronic Devices (IEDs). This standard offers a full range of features to industrial environments, including:
Report by exception – customize alerts for what is needed, when it is needed
Flexible polling – set three different classes of data to specify fast, medium or slow polling
Time-stamped data – uses integrity handshaking, provides automatic retries and delivers data confirmation
Integration ease – natively connects to legacy site equipment to protect existing investments
Sixnet RAM 6000 cellular routers provide secure, cost-effective wireless connectivity to remote locations and assets while offering technology assurance from 3G to 4G in a single solution. As a reliable primary WAN connection or a backup to existing network links, these routers are suited for harsh industrial environments such as oil and gas, power and water/wastewater applications, where space may be limited and wired connectivity not feasible.