Industrial Automation and Networking Leader Named "First Team" Honoree Several Years Running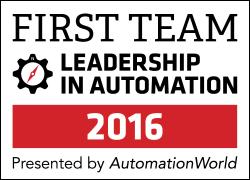 York, Pa. – January 17, 2017 – Red Lion Controls, global experts in communication, monitoring and control for industrial automation and networking, today announced that it has been named a "First Team Supplier" by the readers of Automation World magazine for the sixth consecutive year. Automation World, the leading business magazine serving automation professionals, invited readers to vote for their favorite industry vendors in unaided-recall surveys.
The Automation World "Leadership in Automation 2016" program recognizes companies that represent a wide variety of automation technologies, software and products used in the manufacturing industry. Red Lion was recognized as a 2016 First Team Honoree in the following categories:
"The readers of Automation World have recognized Red Lion now for the sixth year in a row," said Jack Lee, president of Red Lion Controls. "It is a great honor to receive such a testament from those using our portfolio of industrial automation and networking devices every day. As their needs evolve, we will continue to help our customers with a wide range of industrial solutions."
Jim Chrzan, publisher of Automation World, said, "Our First Team Honorees represent not only best-in-class product innovation but also superior customer service. Congratulations to the honorees. And thank you to the end-users who took the time to vote for their favorite solution providers."
Leadership in Automation First Team Honorees are recognized in Automation World's January 2017 issue, available at www.automationworld.com. For additional information about Red Lion, please visit www.redlion.net.