New Models Offer Bypass Relay, PoE+ Support and Full Gigabit Performance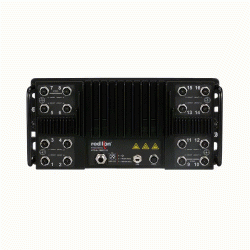 York, Pa. – September 21, 2017 – Red Lion Controls, global experts in communication, monitoring and control for industrial automation and networking, today announced new additions to its N-Tron® series of industrial Ethernet switches. The new Power over Ethernet (PoE) and non-POE models are designed for industrial applications requiring reliability, Gigabit performance, advanced management features and ease of use. Reliability maximizes network uptime, preventing lost production, or even worse, a safety risk. M12 cable connections ensure continuity in applications where motion or vibration exist, and the switches are ruggedized to operate in the harshest conditions.
Red Lion's new IP67 managed Gigabit Ethernet switches provide a rugged, dust proof and water-resistant enclosure with sixteen 10/100/1000Base-T(X) M12 X-coded ports to create a reliable and secure communication network for equipment in harsh environments. They are ideal for railway and other industrial applications subject to shock, vibration and extreme temperature conditions. Two bypass relays enable data to continue to flow through the bypass relay ports, even in the event of a power outage. The new models offer secure M12 copper ports, plug and play operation, bypass relay port options, robust remote monitoring, N-Ring™ and N-Link™ ring technology and N-View™ device monitoring and firmware management technology. Additional features include:
NT24k®-16M12: Industrial managed Gigabit Ethernet switch provides 10 to 49 VDC redundant power inputs and a -40° to 85°C wide operating temperature. The NT24k®-16M12-R, offers two bypass relay port pairs.
NT24k®-16M12-POE: Industrial managed Gigabit POE+ switch provides IEEE 802.3af/at PoE output, 240 watt POE budget configurable across all 16 ports, up to 30 watts per port, 22 to 49 VDC redundant power inputs and a -40° to 80°C wide operating temperature. The NT24k®-16M12-POE-R, offers two bypass relay port pairs.
"High reliability and extreme environmental specs have become the hallmark of Red Lion's N-Tron series Ethernet switches," said Diane Davis, director of product management, networking at Red Lion Controls. "With more and more industrial devices using PoE, industry demands have increased across the board, so these models will be attractive to a broad spectrum of vertical markets including industrial, transportation and intelligent traffic applications."
The new NT24k-16M12 switches are CE, UL Class 1 Div 2 and rail certified. Red Lion's industrial networking portfolio offers customers a wide variety of options that drive operational efficiencies while addressing industry demands. For more information, visit www.redlion.net/nt24k.
For sales inquiries or product questions, call +1 (717) 767-6511 or email us at sales@redlion.net.