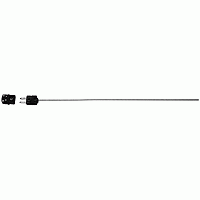 Specifications:
Thermocouple Probe, Type J
Quick Disconnect, Standard Universal Female Connector Compatible
Mating Connector (with "write on label") and PLCM Cable Clamp with Locking Clip
1/16" Sheath Diameter
Inconel 600
Meets or Exceeds SLE and EN 60584-2: Tolerance Class 1
Color Coded Connector Body
Thermocouple Wire and Retractable Sensor Cables are also Optional
Document Downloads:
Product Manual
Dimension Drawing
Online purchasing is not available in this region. Please click here to locate a Red Lion distributor in your area.
This product is currently unavailable for online purchase. Please contact Customer Service at +1 (717) 767-6511 or customer.service@redlion.net for more information.