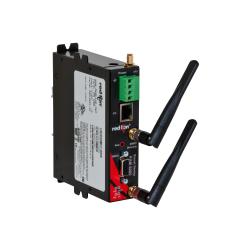 Specifications:
WIRELESS INTERFACE
 AT&T default carrier with multi-carrier selection (Generic or Verizon)
 4G LTE cellular with 3G fallback
Active GPS for device location
Programmable Platform
Event Engine with up to 99 configurable events 
Software Development Kit (SDK)
C/C++/Perl
Protocol Gateway
I/O controller
Modbus RTU/TCP/ASCII/RTU
DNP3 - slave
Tunneling
IP
NAT, port forwarding, dynamic DNS, DHCP
Stateful inspection firewall, IP transparency
Ethernet Interface (10/100 Auto-Sensing)
Serial Interface
1x RS-232 Serial DB9 115200bps
USB Interface
Mechanical
RAM®-6x0X dimensions: steel 120 x 96 x 32 mm (4.7" x 3.77" x 1.25")
RAM-6x0X weight: 453g (1 lb)
Power Input
8-30 Vdc (12 Vdc nominal)
Environmental
Operating temperature: -40° to +70°C
Shock: IEC60068-2-27
Vibration: IEC60068-2-6
Humidity: 5 to 95% non-condensing
Certification
CE, EMC: FCC, part 15 and Industry Canada, ICES-003
Hazardous locations: Class I, Div. 2, Groups A, B, C, D, ISA 12.12.01
Electrical safety: UL508/CSA22.2/14 (CUL)
Carrier specific approvals
Inputs & Outputs
1x digital output
1x digital/analog input
Please see data sheet for available accessories.
Online purchasing is not available in this region. Please click here to locate a Red Lion distributor in your area.
This product is currently unavailable for online purchase. Please contact Customer Service at +1 (717) 767-6511 or customer.service@redlion.net for more information.