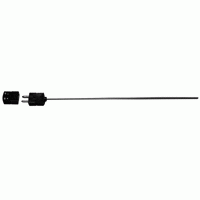 Specifications:
Quick Disconnect Temperature Probes
Choice of 304 Stainless Steel, Inconel 600 or XL Sheath
Mating Connector (with "write on label") and PLCM Cable Clamp with Locking Clip Included with Miniature and Standard Size Probes
XL High Temperature Probe Available
Standard Universal Female Connector Compatible with Mini and Standard Size Probes
Meets or Exceeds SLE and EN 60584-2: Tolerance Class 1
Color Coded Connector Body
Thermocouple Wire and Retractable Sensor Cables are also available
Document Downloads:
Product Manual
Dimension Drawing
Online purchasing is not available in this region. Please click here to locate a Red Lion distributor in your area.
This product is currently unavailable for online purchase. Please contact Customer Service at +1 (717) 767-6511 or customer.service@redlion.net for more information.