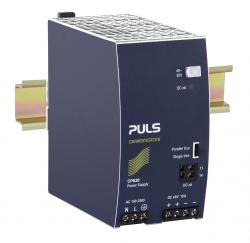 Specifications:
DIN-Rail Power Supply, 10 Amp @ 48 VDC
For use with N-Tron®'s NT24k-8TX-POE Switch 
AC 100-240V Wide-range Input
ATEX and IECEx Approved
20% Output Power Reserves
Safe HiccupPLUS Overload Mode
Easy Fuse Tripping due to High Overload Current (typ. 45A for 15ms)
Active Power Factor Correction (PFC)
Minimal Inrush Current Surge
Full Power Between -25°C and +60°C
DC-OK Relay Contact
Current Sharing Feature for Parallel Use
Physical Dimensions: 4.88"(12.4 cm) H x 2.56" (6.5 cm) W x 5.00" (12.7 cm) D, 2.2 lbs. (1000 g) 
Document Downloads:
Data Sheet
Online purchasing is not available in this region. Please click here to locate a Red Lion distributor in your area.
This product is currently unavailable for online purchase. Please contact Customer Service at +1 (717) 767-6511 or customer.service@redlion.net for more information.