Programming software for Red Lion's Graphite®, G3 and G3 Kadet HMI operator panels, CSMSTRSX, CSMSTRGT and CSMSTRV2 Modular Controllers and Data Station Plus.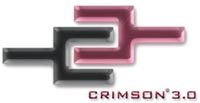 Welcome to Crimson® 3—the latest version of Red Lion's widely-acclaimed configuration software. Our latest release of Crimson 3 features a number of new drivers, which include an enhanced version of the Emerson ROC driver. Now our products have access to one of the widest used protocols in the automation market. In addition to the ROC driver, we have also released a CANopen PDO Slave driver and a number of camera drivers that include Cognex, Microscan, PPT Vision and IFM Efector.
With multiple protocol support built into every Red Lion HMI operator interface product, a second protocol can be chosen to acquire data from the original driver. Once collected, our HMI operator panels, Modular Controllers and Data Station Plus can convert the data to a different protocol so that it can be integrated with virtually any PLC, PC or SCADA system. The data may also be recorded in IT-friendly CSV file format for later review, using the built-in data logging facilities.
With this new offering of drivers, over 300 protocols are now available on the Crimson 3 Software.
Many of Red Lion's products can be programmed using Crimson 3 - for those products that still require Crimson 2, please see our Hardware Support page.
Downloads
Crimson 3.0, Gold Build 690.002
Note: This build requires a PC running Windows 7 or later. Tablet PCs are not supported at this time.
Click here to Download (140 MB)
Problems downloading may be due to heavy internet traffic. If you experience problems, please try downloading at a later time.
Read the Update Notice and N-View™ Application Brief to learn more.
Previous Builds
Please refer to the Revision History for older versions of this software.
Documentation
Crimson 3 Quick Start Guide (512KB)
Crimson 3 Manual English (Revision 2.6) (5612KB)
Crimson 3 Manual Chinese (Revision 2.1) (5588KB)
Crimson 3 Manual French (Revision 2.1) (5849KB)
Crimson 3 Manual German (Revision 2.1) (5667KB)
Crimson 3 Manual Spanish (Revision 2.1) (6413KB)
Crimson 3.0 Reference Manual (Revision 1.4) (1140KB)
Crimson 3.0 Reviewers' Guide (47KB)
Crimson 3.0 Tutorials English (4132KB)
Crimson 3.0 Tutorials French (4420KB)
Notes
To install Crimson 3.0...
Right-click on the Download link above and select Save As...
Select a suitable directory on your PC to save the file. When the download is complete, run the file to install.