Rugged RAM-6021M12 Provides Secure Communication Between Local and Wide Area Networks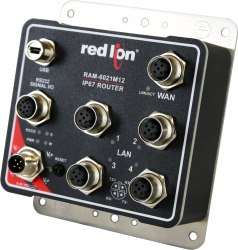 York, Pa. – June 27, 2018 – Red Lion Controls, global experts in communication, monitoring and control for industrial automation and networking, today announced the RAM-6021M12 industrial router, purpose-built to withstand extreme conditions from the factory floor to transportation and hazardous locations. The RAM-6021M12 offers an IP67 dustproof and water-resistant enclosure, -40 to 80°C operating temperature, 50G vibration/200G shock tolerances, and is tested to hazardous locations, marine and rail standards.
Red Lion's rugged industrial routers deliver the security required to prevent unwanted intrusion in both the connected factory and remote locations. With WAN-to-LAN and LAN-to-LAN connectivity, the RAM-6021 and RAM-6021M12 provide simple configuration to seamlessly connect, monitor and control machinery and equipment. They deliver a powerful all-in-one solution with quick network setup to existing Ethernet infrastructures, including networks with Modbus and DNP3 enabled devices.
"The factory floor, remote locations and hazardous environments can present a challenge to customers seeking efficient and cost-effective connectivity in industrial applications," said Diane Davis, director of product management for Ethernet networking at Red Lion Controls. "Our RAM routers deliver secure and reliable communications through their stateful firewall, network translation (NAT), and VPN connections. The ruggedized RAM-6021M12 adds a dust-proof and water-resistant design along with high temperature, shock and vibration ratings for direct panel mount installation, eliminating the need for installation inside of a protected enclosure."
The robust feature set in both RAM-6021 models includes RAMQTT for cloud connectivity, and an easy-to-use event engine that can locally trigger I/O or send email messages based on real-time operational data.
For more information about Red Lion's RAM-6021 wired routers, visit http://www.redlion.net/routers.