Increase Efficiency and Security
Without a Total Upgrade
Red Lion lets you connect old and new devices while helping to protect from security breaches. With increasing demands on the water and wastewater industry, costs are rising and efficiencies dropping. Many companies are turning to IIoT to make smarter choices—but that doesn't have to mean overhauling your system. From panel meters that put data at your fingertips to platforms that empower you to integrate data from different places, Red Lion's products let you upgrade quickly and easily. 
"In today's market, we see innovation accelerating at breakneck pace. And that's terrific. But it makes it hard for customers to cost-effectively plan for the future. Too often they have no choice but to make costly capital investments, scrap existing equipment, or both. Red Lion answers their challenges." Rod Smith

VP of Marketing and Product Management
How Can You Solve Wastewater Challenges Without a Total Upgrade?
Red Lion's customizable solutions are easy to use, rugged and reliable, and built to allow remote access and higher levels of security. Highly integrated, innovative features are designed to meet the changing demands of the market.
Easy to Use
With plug and play capabilities, the ability to support over 300 protocols and connect new and existing equipment, you won't have to spend money on totally new products to upgrade your system.
Reliability
Our industrial switches have a high mean time between failure, operating reliably for decades in the field.
Rugged
Our solutions are reliable and can withstand extreme temperatures in difficult-to-access environments like pumping stations, treatment plants, storage tanks, filtration, titration, aeration, and chlorination systems.
Industry 4.0
Products like FlexEdge allow you to remotely access your system to capture, visualize and log data using the power of Crimson. This, combined with added layers of security, is truly Industry 4.0.
Critical Operations Become Accessible and Controllable from Anywhere
24 hour immediate access to your plants most crucial operations is now at your fingertips. Just another example of how Red Lion is providing future proof solutions to our partners in the wastewater industry.
Wastewater Lift Station Remote Access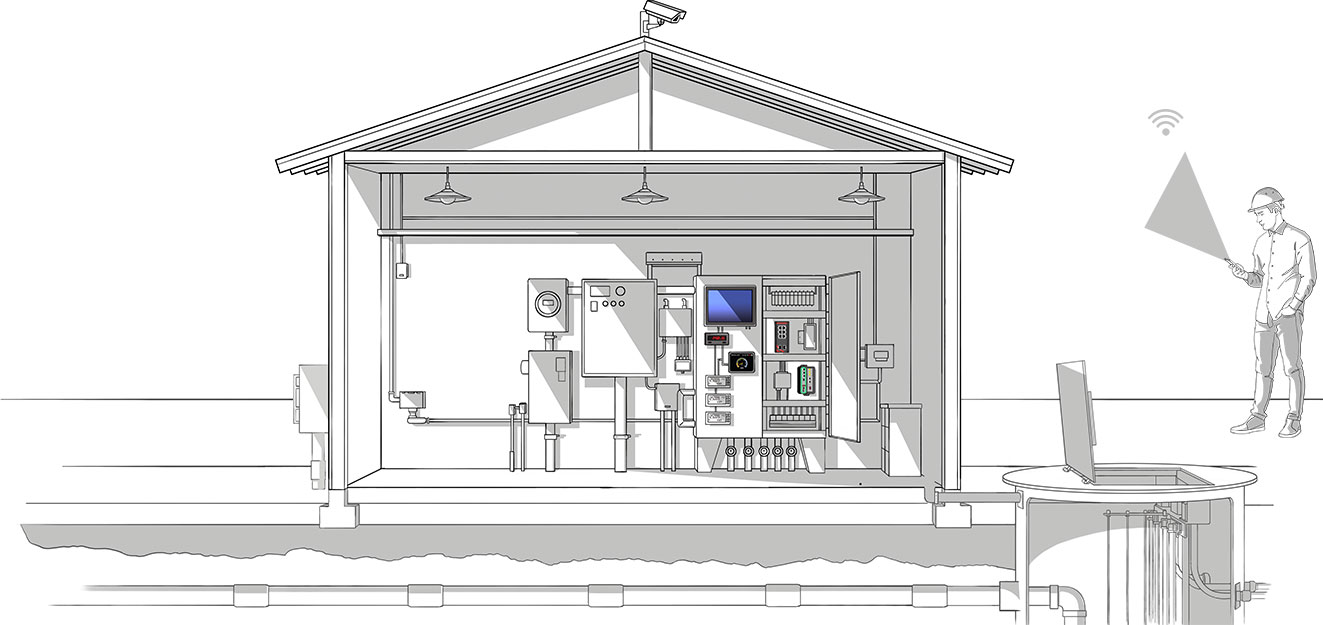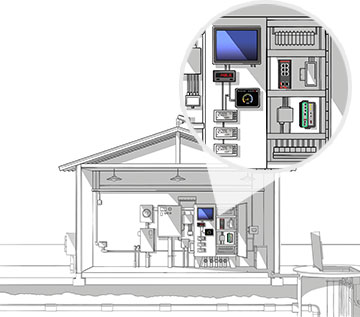 Red Lion's Crimson® Software
:
Delivering Real Time Monitoring of Critical Applications
Crimson software is a remarkable programming platform that delivers a powerful set of drag-and-drop configuration, visualization, control, data logging tools and remote access.
Convert up to 20 protocols simultaneously from over 300 supported drivers
An all-in-one environment that eliminates the need for multiple configuration tools
Connect to most MQTT cloud servers for data transfer over internet or for LAN communication via OPC-UA and/or SQL
Rapidly build graphic interfaces with comprehensive image library of over 5,000 industrial graphics
Capabilities using full-featured C-type syntax programming environment to support advanced math, local variables, pass parameters, calls, return values and more
Ability to remotely access applications through OpenVPN, IpSec and GRE tunneling protocols
Wastewater Pump Station Remote Access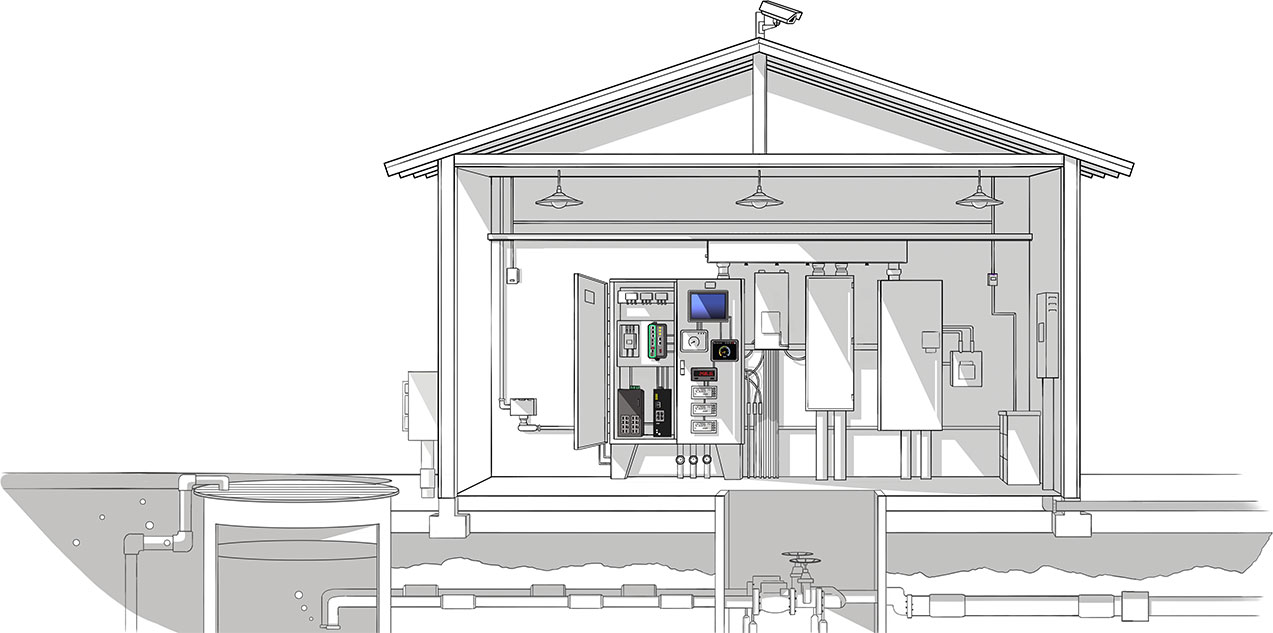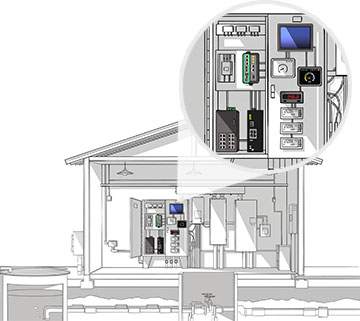 Water/Wastewater Products
for Your Business
Explore how our various solutions can help solve your business needs today. Find out what products are right for you.
Find Your Solution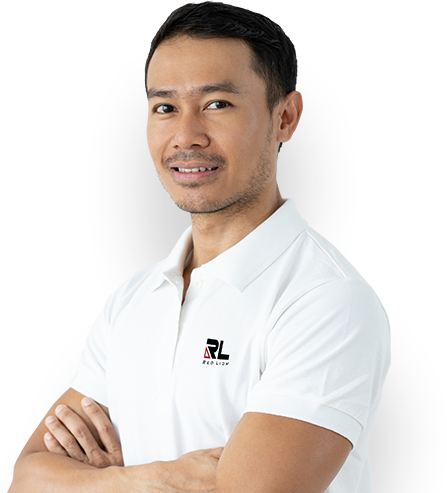 Not Sure What Products You Need
Can Improve Your Workflow?
Our product specialists are here to help you select the products you need to solve your problems quickly and effectively. They will walk you through the right options, and you can get started improving your business today.
Find Your Solution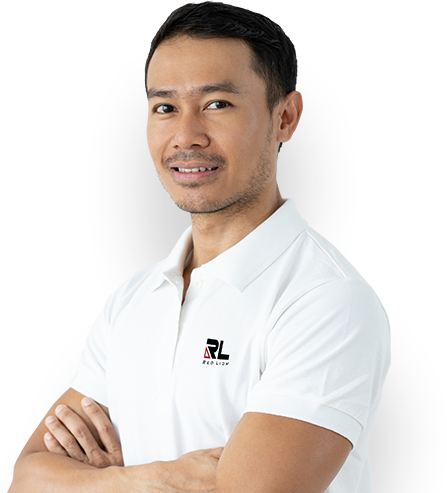 Our Industry Leading Wastewater Products
What Can Red Lion's Intelligent Solutions Do for Your Operations?
Red Lion serves almost major industry, from transportation to food and beverage to factory automation. Our solutions can be found both around the corner and at the ends of the earth. Learn more about how we can help your specific industry stay connected, productive and efficient.
Get in Touch