FlexEdge® Intelligent Edge
Automation Platform
 
Take it to the Edge and Beyond
for Increased Efficiency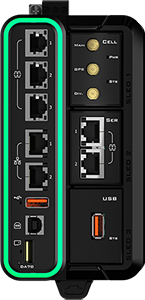 Access Your Data in Real-time
Red Lion's FlexEdge® Intelligent Edge Automation Platform, powered by Crimson®, enables users to make informed decisions by unlocking data - otherwise inaccessible. When data is unlocked, it now becomes possible to monitor your application locally, or from the cloud, in real-time to maximize operational performance. FlexEdge, the ultimate edge device, is designed to provide a scalable solution through field unlockable software, hot-swappable I/O modules, and communication sleds to accommodate changes in application. Don't worry; integration into multi-vendor environments is what FlexEdge does best!

Red Lion's Crimson® Software:
Delivering Real Time Monitoring of Critical Applications
Crimson software is a remarkable programming platform that delivers a powerful set of drag-and-drop configuration, visualization, control, data logging tools and remote access.
Convert up to 20 protocols simultaneously from over 300 supported drivers
An all-in-one environment that eliminates the need for multiple configuration tools
Connect to most MQTT cloud servers for data transfer over internet or for LAN communication via OPC UA
Rapidly build graphic interfaces with comprehensive image library of over 5,000 industrial graphics
Capabilities using full-featured C-type syntax programming environment to support advanced math, local variables, pass parameters, calls, return values and more
Ability to remotely access applications through OpenVPN, IpSec and GRE tunneling protocols
Advanced diagnostic tools useful for quicker troubleshooting with Wireshark captures, connection status, active routes etc.
Networking Gateway Today; Advanced IIoT Controller Tomorrow
Field unlockable software saves you time and money by eliminating the need to purchase and install new hardware when application needs change. Upgrading your application from a gateway to a controller has never been easier! FlexEdge is the ultimate Edge device.
Software Features
 
 
Networking Gateway
Protocol Gateway
Advanced IIoT Gateway
Automation Controller
Configuration
 
Web GUI
✔
✔
✔
✔
 
Crimson
✔
✔
✔
✔
Networking
 
Firewall
✔
✔
✔
✔
 
RADIUS Auth.
✔
✔
✔
✔
 
Routing
✔
✔
✔
✔
 
NAT
✔
✔
✔
✔
 
IP fallback
✔
✔
✔
✔
 
VPN Client/Server
✔
✔
✔
✔
Automation
 
300+ Drivers
 
✔
✔
✔
 
IIoT Connectors
 
✔
✔
✔
 
OPC UA
 
✔
✔
✔
 
SQL Sync
 
 
✔
✔
 
Data Logging
 
 
✔
✔
 
Virtual HMI
 
 
✔
✔
 
Advanced Web Server
 
 
✔
✔
IEC control
 
Crimson Control
 
 
 
✔
Rugged Outside. Reliable Inside.
FlexEdge provides a dependable solution for control, networking and data visualization in even the harshest environments.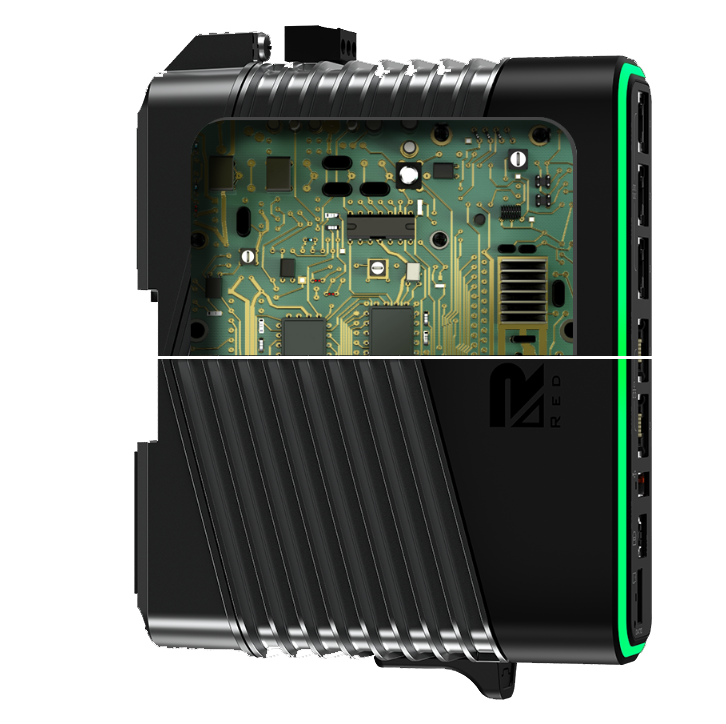 Rugged enclosure
Operating temperature range of -40° to 75°C
Hazardous Location (HazLoc) Certifications including UL Class 1, Division 2, and ATEX/IECEx.

 
Resources
FlexEdge
Brochure
⤓ Download
FlexEdge with HDMI
Brochure
⤓ Download
Road to IT/OT
Integration
Whitepaper
⤓ Download
OEM, Food Packaging
Application Note
⤓ Download
Multinational
Mining Company
Application Note
⤓ Download
Easy Realization
of OpenVPN
Whitepaper
⤓ Download
Implementing IIoT Solutions
Whitepaper
⤓ Download
Bring New Life to Legacy I/O
Whitepaper
⤓ Download
FlexEdge with HDMI
FlexEdge® with HDMI powered by Crimson®, you can effortlessly create real-time productivity scoreboard within minutes! By utilizing the onboard HDMI® port and the capabilities of Crimson, you can quickly deploy customized dashboards to a smart TV. Adapt the displays to meet your specific requirements using Crimson's advanced programming capabilities.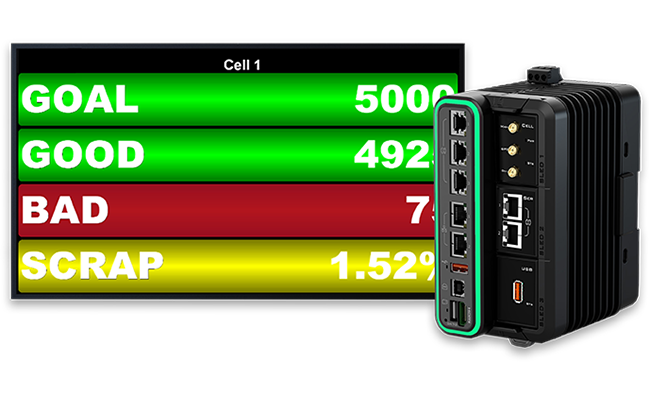 Base Units
DA50A 1-Sled Modular Gateway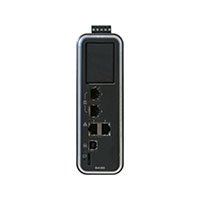 The DA50A features one communication sled, and on-board I/O. A variety of serial and Ethernet ports enable easy integration to any application.
DA70A 3-Sled Modular Gateway with Scalable I/O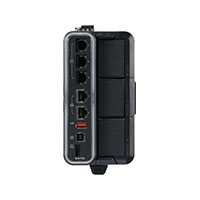 The modular design of the DA70A allows for up to three communications sleds to be added as requirements change or new communication standards emerge. Rugged, field-installable PID control and I/O modules ensure a solution that adapts to meet almost any industrial application need.
Communication and I/O
Communications Sleds

Avoid costly and complex rip-and-replace scenarios by adding new communications technologies as they become available.
I/O and PID Control Modules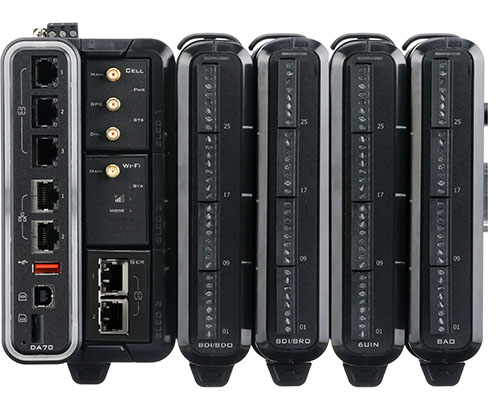 Rugged, field-installable PID control and I/O modules ensure a solution that adapts to almost any industrial application need.
Design Your Custom FlexEdge Solution