Submitted by mquigg_101760 on Tue, 2021-06-15 03:33
You Require Choices.
We Provide You with Options.
Red Lion manufactures high quality solutions for your digital and analog panel meter requirements. Our portfolio offers you a wide range of models, sizes and capabilities — from our indicators, to our versatile process meters with communication, you have the ability to add or change capabilities with plug-and-play, field-installable cards.
Meters for Any Application.
Display Height .3" (7.6 mm) to 4" (101 mm)
Digital Meters: count, rate, time
Analog Meters: current, process, resistance, strain gage, temperature, voltage
PID Control: current, process, temperature, voltage
Outputs: relay, solid state, retransmitted analog
Various communication protocols
Field-installable option cards for changing business needs
Easy-to-use powerful capabilities of Crimson® software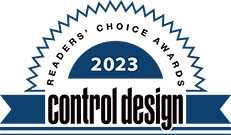 2023
Readers' Choice Award
For 23 consecutive years the readers of Control Design Magazine have voted Red Lion the number one panel meter manufacturer in the industry.
Need Help Selecting The Right Meter?
Simply enter your panel meter requirements and find compatible meters that will fit your application.
You Make the Change. We Make it Easier.
Ready to replace your panel meter? You'll need to select the correct replacement product from Red Lion. This tool will help you decide which product is the closest match and has the right features or options for all your needs.
We know you'll love our panel meters. In fact, you can trade in your panel meter for a free Red Lion one.
Click Here to learn more about the Panel Meter Trade In Program.
Panel Meters for any Application
from the Leading Panel Meter Brand.
What Can Industry-Leading Panels Do For Your Business?
Our high quality panels are varied and versatile, able to meet a wide range of needs with an even wider range of capabilities—and we're ready to tackle your challenges. To find out which panel is right for you or to learn more about Red Lion's products, get in touch for a consultation.
Get in Touch