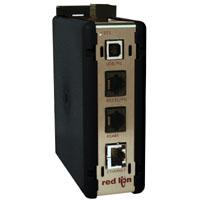 Specifications:
The ICM8 is designed to act as an ethernet gateway offering protocol conversion for Red Lion panel meters. With two serial ports (one RS-232 and one RS-485) and a 10/100Base-T(X) Ethernet port, the unit performs protocol conversion, allowing Red Lion panel meters to communicate seamlessly to the ethernet network. Programming the unit can be accomplished via the RS-232 or the USB port using Crimson® software. It is important to note that this device is designed to function with Red Lion panel meters and will not offer protocol conversion if a Red Lion product is not connected to a serial port. The ICM8'S DIN-rail mounting saves time and panel space and snaps easily onto standard top hat (T) profile DIN rail.
Ethernet Gateway for Red Lion Panel Meters with RLC Serial Protocol
Programmable via Crimson 2.0 Software
USB Programming Port
Extensive Ethernet Driver List Allows Easy Data Mapping to PLCs, PCs, and SCADA Systems
10/100Base-T(X) Ethernet
Product Manual
Dimension Drawing
Please see data sheet for available accessories.