Build the Perfect Solution.
With plug-and-play module slots and additional expansion rack options, Red Lion's Graphite HMIs and controllers provide a scalable all-in-one platform to help integrate complex multi-vendor environments. Employing modules to address PID control, data acquisition and communication, the Graphite platform allow users to connect, monitor and control a wide array of equipment to meet specific application requirements. In addition, our Graphite Crimson® Control module enables users to leverage industry-standard IEC 61131 programming languages to develop logic code without added expense.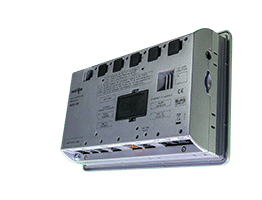 Crimson Control Module:
The Graphite Crimson Control module plugs into Graphite HMIs to form an all-in-one industrial solution that adds IEC 61131 control functionality without requiring additional panel space or a separate programming package. Crimson Control enables customers to use IEC 61131 programming languages – such as Ladder Logic, Function Block, Structured Text and Instruction List – to solve specific application needs by developing logic control much like a Programmable Logic Controller (PLC) or Remote Telemetry Unit (RTU) without the added expense. 
PID Controller Modules: 
Lifting the burden of temperature control from the PLC is a wise choice. But integrating real-time PID controllers previously meant hours and hours of custom PLC protocol development with costly and complex standalone controllers. Graphite PID controller modules work with Graphite HMIs and controllers to offer drag-and-drop configuration and built-in drivers that can easily configure and integrate high-density multi-zone systems in only minutes. The PID controller modules are available in single or dual loop versions. Additional functionality includes SSR Output, Heater Current Monitor, Relay Outputs and Analog Outputs. The modules can operate in On/Off, P, PI or PID control mode as well as use an on-demand Auto-Tune to establish tuning constants.
Data Acquisition: 
Monitoring and controlling remote devices is now easy and intuitive with Graphite data acquisition modules. With Digital I/O, Universal, Analog and Thermocouple/RTD modules, easily connect any device or sensor to Graphite HMIs and controllers. Inputs are isolated from outputs, and are independently configurable for high or low active status. 
Communication Modules:
Expand Graphite HMI and controller functionality with communication modules that support protocol specific functions for integration into J1939, CAN and DeviceNet networks.