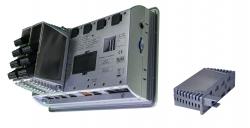 Specifications:
Dedicated Dual PID Module for the Graphite® Series
Fully Isolated Design Provides Reliable Operation
PID Control with Reduced Overshoot
Universal Inputs accept TC, RTD, 0-10 V, and 0/4-20 mA Signals
On Demand Auto-Tuning of PID Settings
Heater Current Input ensures detection of Heater Circuit Failure
Online purchasing is not available in this region. Please click here to locate a Red Lion distributor in your area.
This product is currently unavailable for online purchase. Please contact Customer Service at +1 (717) 767-6511 or customer.service@redlion.net for more information.