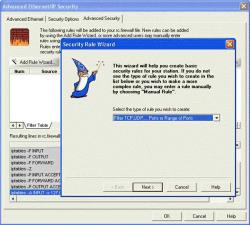 Specifications:
Protect your system from unauthorized access with this add-on firewall application. A simple Security Rule Wizard in the I/O Tool Kit let's you define rules that restrict access (incoming or outgoing) based upon IP address, IP ports, or any other capability of the IPtables Linux application program. IPm® firmware v1.7 and I/O Tool Kit v2.3 or later are required and may be downloaded at no charge. Registered I/O Tool Kit users may purchase a license to use for this add-on security software directly from Sixnet®. This one license may be used with any number of IPm controllers owned by the same licensee. This application will run in any IPm based product, including all VT-IPM and ST-IPM models, VT-MIPM, VT-µIPM industrial RTUs, the ST-GT-1210 and the ET-GT-ST-3.
Online purchasing is not available in this region. Please click here to locate a Red Lion distributor in your area.
This product is currently unavailable for online purchase. Please contact Customer Service at +1 (717) 767-6511 or customer.service@redlion.net for more information.