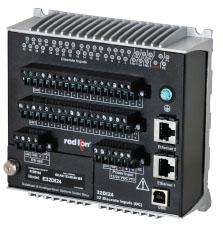 Specifications:
Discrete Input Channels
Voltage range E2-16DIAC-D: 60 – 140 VAC
Input Polarity: Sourcing
Input isolation: 150 Volts (16 channel modules only)
Guaranteed ON voltage: 55 VAC
Guaranteed OFF voltage: 35 VAC
Input resistance: 10 Kohms
Input Protection: High Impedance with overvoltage protection
Filtered ON/OFF delay: 25 ms (20 Hz. max. counting rate)
Fastest response: 25 ms (20 Hz. max. counting rate)
Environmental
Operating temperature: -40 to 75°C 

MTBF: 1,432,797 Hours GB @ 40°C per MIL-HNDBK-217F2
​​​Configuration
Configured using Crimson® 3.x software
Graphical User Interface (GUI)
Process Control Discrete Inputs:
Accessories
Click on the accessory types below to view accessories related to this product.
Cables and Adapters
SFP Transceivers
Cables - Fiber
Cables/Surge Arrestors
Online purchasing is not available in this region. Please click here to locate a Red Lion distributor in your area.
This product is currently unavailable for online purchase. Please contact Customer Service at +1 (717) 767-6511 or customer.service@redlion.net for more information.