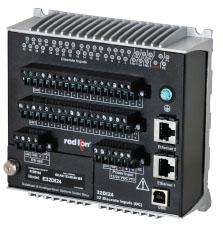 Specifications:
Analog Input Channels
Analog Input Ranges: +/-250 mV, Thermocouples supported J,K,E,R,T,B,L,N & S
A/D resolution 16 bits (0.003%)
Full scale accuracy +/- 0.02% (at 20 °C, 16 bit mode)
Temperature coefficient +/- 50 ppm per °C (span and offset)
Input impedance (resistance): 200 Kohms
DMRR (differential mode) 66 db at 50/60 Hz
Fastest update time (all 16 channels): 200 ms
Accuracy typical uncalibrated +/- 0.5 °C
Common mode input voltage:

Between two input terminals +/- 60VDC
Between inputs and ground 300 volts
​Configuration
Configured using Crimson® 3.x software
Graphical User Interface (GUI)
Accessories
Click on the accessory types below to view accessories related to this product.
Cables and Adapters
SFP Transceivers
Cables - Fiber
Cables/Surge Arrestors
Online purchasing is not available in this region. Please click here to locate a Red Lion distributor in your area.
This product is currently unavailable for online purchase. Please contact Customer Service at +1 (717) 767-6511 or customer.service@redlion.net for more information.