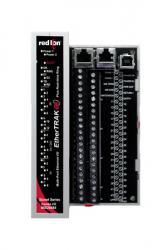 Specifications:
Analog Input Channels
Analog Input Range: 4-20 mA
A/D resolution: 16 bits (0.003%), 10 bits (fast option, Channels 1 and 2 only)
Full scale accuracy +/- 0.02% (at 20 °C, 16 bit mode)
Temperature coefficient +/- 50 ppm per °C (span and offset)
Input impedance (resistance): 100 ohms
Protection: Self-resetting short circuit protection fuses
DMRR (differential mode) 66 db at 50/60 Hz
Fastest update time [# of chan.]: 880 ms [all] -16-bit; 145 ms [all] -14-bit; 1 ms [2] -10-bit
​​Configuration
Configured using Sixnet I/O Tool Kit
Graphical User Interface (GUI)
Accessories
Click on the accessory types below to view accessories related to this product.
Cables and Adapters
SFP Transceivers
Cables - Fiber
Cables/Surge Arrestors
Document Downloads:
Product Manual
Quick Start Guide
Dimension Drawing
Data Sheet
Online purchasing is not available in this region. Please click here to locate a Red Lion distributor in your area.
This product is currently unavailable for online purchase. Please contact Customer Service at +1 (717) 767-6511 or customer.service@redlion.net for more information.