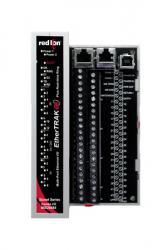 Specifications:
Discrete Output Channels
Output voltage range 10-30 VDC
Max. output power: 1A Per channel, 16A per module, .8A at 60°C 8 channels at 24 VDC
Max. off state leakage: 0.01 mA (less than 10 uA)
Short circuit protection: self-reset fuses (trip above 1.5 Amp)
Min. load: 1 mA
Inrush current: 5 Amps (100 ms surge)
Typical on resistance: 0.3 Ohms (Drop 0.3 VDC @ 1 Amp)
Input isolation: 150 Volts
All Channels Scan rate: 1 ms
PoE power internally supplies power to module intelligence, communications, and inputs.
​​Configuration
Configured using Sixnet I/O Tool Kit
Graphical User Interface (GUI)
Process Control Discrete Outputs:
Accessories
Click on the accessory types below to view accessories related to this product.
Cables and Adapters
SFP Transceivers
Cables - Fiber
Cables/Surge Arrestors
Document Downloads:
Product Manual
Quick Start Guide
Dimension Drawing
Data Sheet
Online purchasing is not available in this region. Please click here to locate a Red Lion distributor in your area.
This product is currently unavailable for online purchase. Please contact Customer Service at +1 (717) 767-6511 or customer.service@redlion.net for more information.