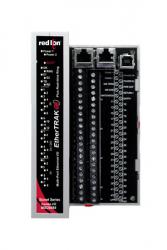 Specifications:
Discrete Output Channels
Output voltage range 10-30 VDC
Max. output power: 1A Per channel, 16A per module, .8A at 60°C 8 channels at 24 VDC
Max. off state leakage: 0.01 mA (less than 10 uA)
Short circuit protection: self-reset fuses (trip above 1.5 Amp)
Min. load: 1 mA
Inrush current: 5 Amps (100 ms surge)
Typical on resistance: 0.3 Ohms (Drop 0.3 VDC @ 1 Amp)
Input isolation: 150 Volts
All Channels Scan rate: 1 ms
PoE power internally supplies power to module intelligence, communications, and inputs.
​​Configuration
Configured using Sixnet I/O Tool Kit
Graphical User Interface (GUI)
Product Manual
Quick Start Guide
Dimension Drawing
Data Sheet
Accessories
Click on the accessory types below to view accessories related to this product.
Cables and Adapters
SFP Transceivers
Cables - Fiber
Cables/Surge Arrestors