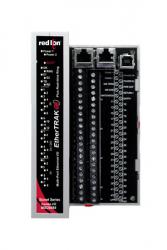 Specifications:
Analog Output Channels
Analog output range 4-20 mA
D/A resolution 16 bits (less than 1 uA)
Full scale accuracy  +/-0.02% (at 20°C)
Span and offset temp. +/- 50 ppm per °C typ.
Max. output settling time 5 ms (to .05%)
Load resistance (@ 24 V) 0-750 Ohms
Load resistance (@ 10V) 300 Ohms
Current limiting short circuit protection
​​Configuration
Configured using Sixnet I/O Tool Kit
Graphical User Interface (GUI)
Product Manual
Quick Start Guide
Dimension Drawing
Data Sheet
Accessories
Click on the accessory types below to view accessories related to this product.
Cables and Adapters
SFP Transceivers
Cables - Fiber
Cables/Surge Arrestors