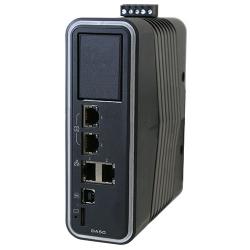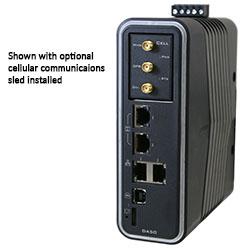 Specifications:
Overview
The DA50A's modular design makes designing for compatibility with rapidly evolving communications standards as easy as replacing a field-installable sled. With advanced networking capabilities including routing, a stateful firewall, IPSec, VRRP, and OpenVPN support, adding secure communications is easy. With the on-board I/O, you can enable local monitoring and control capabilities, and be notified if the status changes.
Specifications
Two 10/100Base-T(X) Ethernet ports
One (1) isolated RS-232 serial port
One (1) isolated RS-485 serial port
One (1) AI/DI, One (1) DO
Onboard memory: 1 GB flash
Expansion memory: Up to 256 GB, micro SD
12-24 VDC +/- 15% 
-40 to 75 C Operating Temperature
UL Class 1, Div 2 Certification
ATEX / IECEx Certification
 
Additional Features 
IP Fallback, IP Transparency, NAT, and routing capabilities 
VPN Client/Server capabilities with certificate generation
Intuitive diagnostic light ring for at-a-glance system status indication
Future-proof modular design accommodates field-installable sleds
802.11 b/g/n Wi-Fi Client or Access Point (with Wi-Fi Communications Sled )
Dual SIM 4G LTE Router with Active GPS (with Cellular Communications Sled )
Click here to design your ideal FlexEdge Intelligent Edge Automation solution!
Accessories
Click on the accessory types below to view accessories related to this product.
Modules