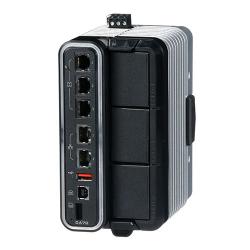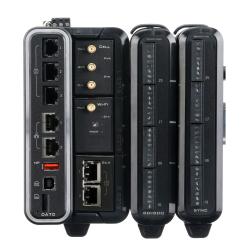 Specifications:
Overview
The modular design of the DA70A allows for up to three communications sleds to be added as requirements change or new communication standards emerge. With advanced networking capabilities, IEC 61131 Crimson Control, support for 300+ industrial drivers, and IIoT Cloud connectors, communicate with most any brand of PLC or other equipment, and securely transmit data to wherever it is required. Rugged, field-installable PID control and I/O modules ensure a solution that adapts to meet almost any industrial application need, while the diagnostic light ring offers at-a-glance insight into system operation. Powered by Crimson® 3.2, it is easy to configure secure communications or robust automation capabilities in minutes.
Specifications
Two 10/100Base-T(X) Ethernet ports
One (1) isolated RS-232 serial port
Two (2) isolated RS-485 serial ports
One (1) USB Host port
Onboard memory: 1 GB flash
Expansion memory: Up to 256 GB, micro SD
12-24 VDC +/- 15% 
-40 to 75 C Operating Temperature
UL Class 1, Div 2 Certification
ATEX / IECEx Certification
Additional Features
•    IP Fallback, IP Transparency, NAT, and routing capabilities
•    VPN Client/Server capabilities with certificate generation 
•    300+ industrial drivers to communicate with anything
•    Point and click connectivity to IIoT cloud platforms
•    Embedded OPC UA server and client enables seamless communication with upstream system
•    Support for any combination of communication sleds
•    Supports up to 10 I/O or PID control modules
•    Advanced Web Server with Javascript, Bootstrap, CSS and HMTL5 support delivers operations visibility anywhere
•    Three widescreen virtual HMI options for remote monitoring and control
•    Real-time data, event and security logging with cryptographic signature support
•    Use industry-standard IEC 61131 programming languages such as ladder logic, function block, structured text and instruction list
•    Intuitive diagnostic light ring for at-a-glance system status indication
•    Future-proof modular design accommodates field-installable sleds
•    802.11 b/g/n Wi-Fi Client (with Wi-Fi Communications Sled)
•    Dual SIM 4G LTE Modem with Active GPS (with Cellular Communications Sled)
•    Dual RS-232 Serial Ports (with RS-232 Communication Sled)
•    Dual RS-485 Serial Ports (with RS-485 Communication Sled)
•    Mixed RS-232/RS-485 Serial Ports (with Mixed Serial Communication Sled)
Click here to design your ideal FlexEdge Intelligent Edge Automation solution!
Accessories
Click on the accessory types below to view accessories related to this product.
Modules