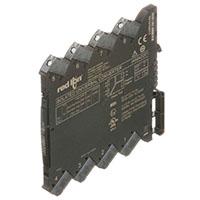 Specifications:
Programmable by way of programming kit, PGMMOD02 (see accessories).  
Process calibration, signal simulation, password protection, error diagnostics and help text available in several languages.
Input for RTD, TC, Ohm, potentiometer, mA and V
2-wire supply > 15 V
Output for current and voltage
3-port 2.5 kVAC galvanic isolation
Slimline housing of 6 mm
I.S. approvals: FM Div. 2, ATEX Zone 2, IECEx Zone 2
Applications
Linearized electronic temperature measurement with RTD or TC sensor
Conversion of linear resistance variation to a standard analog current / voltage signal, i.e. from solenoids and butterfly valves or linear movements with attached potentiometer
Power supply and signal isolator for 2-wire transmitters
Process control with standard analog output
Galvanic separation of analog signals and measurement of floating signals
Accessories
Click on the accessory types below to view accessories related to this product.
Modules
PGMMOD02
-
Signal Conditioner Programming Module and Docking Station Kit