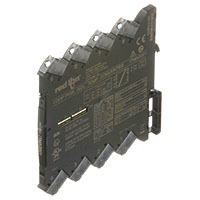 Description:
The ITMA accepts thermocouple or millivolt inputs and converts them into a voltage or current output. The voltage or current output is linearly proportional to the temperature or millivolt input. This output is ideal for interfacing to indicators, chart recorders, controllers or other instrumentation equipment.
The ITMA is available in two versions, loop-powered or DC powered. The loop-powered unit means that the same two wires are carrying both the power and the output signal. The unit controls the output current draw from 4 to 20 mA in direct proportion to the input change while consuming less than 4 mA for power. The DC powered unit has the DC power input isolated from the signal input and the analog output. The DC unit scales the analog output proportionally to the thermocouple or millivolt input signal. The analog output may be configured for one of the following: 0 to 20 mA, 4 to 20 mA, or 0 to 10 VDC.
The ITMA signal conditioners can be easily configured using a ten position DIP switch. A simple range setting technique (field calibration) is used so the actual input signal adjusts the output for scaling. This technique eliminates the need for potentiometers which are vulnerable to changes due to vibration.
The unit is equipped with a universal mounting foot and can be mounted to either a top hat (EN 50 022) or a G profile (EN 50 035 – G32) DIN rail.
Products: