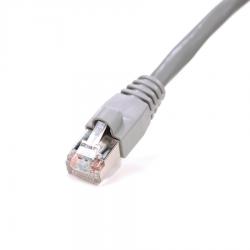 Specifications:
Cable - Mechanical
Conductors: 4 pair, stranded (19 x 0.13 mm)
Conductor size: 24 AWG (0.25 mm2)
Conductor material: tinned copper
Insulation: color coded per TIA/EIA-568-B(Blue+white, orange+white, green+white, brown+white)
Insulation size: OD 0.04" (1 mm) nominal
Insulation material: cellular polyethylene (PE)
Construction: Pairs cabled with Kevlar-strength strands and separation tape wrapped
Inner shield: polyester-aluminum, 100% coverage
Outer shield: tin copper braid, 80% coverage
Jacket material: special yellow polyurethane (FR-PU)
Jacket rating: low-smoke, HFFR (halogen-free, flame-retardant), UL94V-0
Jacket protection: resists UV, hydrolysis and microbial
Jacket chemical resistance: Highly resistant to many chemicals and substances (organic and inorganic)
Weight: 0.04 lbs/ft (61 Kg/Km)
Outer diameter (OD): 0.28" (7.1 mm) nominal
Min. bend radius – install: 2.7" (67 mm) ( 9.5 x OD)
Min. bend radius – operation: 1.4" (35 mm) (5.1 x OD)
Flexes to failure: meets IEC 61156-1 (>10,000 cycles, 1 Kg load, bend radius 110mm)
Operating temperature: -50°C to 85°C (-10° to 70°C during installation)
Safety compliance: UL444/CSA C22.2-214, CE
Flame test compliance: UL 1581 VW-1, IEC 60332.1
Cable - Electrical
Compliance: category 5E per TIA / EIA-568-B, ISO/IEC 11801, IEC 61156-6
EMI/RFI protection: IEC 61156-5/6 Type II and level 2 of TCL (50 dB)
Attenuation and N.E.X.T.
DC resistance: 96 Ohms/Km @ 20°C
Impedance: 100 +/- 15 Ohms (1-100 MHz)
Capacitance: 46 pF/m nominal @ 1 KHz
LCL: 43 dB minimum @ 64 KHz
Voltage rating: 230 Vrms
Dielectric strength: 700 VAC/1 minute
Insulation resistance: 5000 MOhm-Km minimum
Velocity of propagation: 68% - 75% nominal
Propagation delay: 5.4 nS/m maximum @ 100 MHz
Diff. delay skew: 0.35 nS/m max. @ 1-100 MHz
Capacitance unbalance: 3.2 pF/m maximum @ 1 KHz
Resistance unbalance: 2% maximum @ 20°C
Return loss: 0.19 dB/m min. @ 100 MHz
Spark test: 3 K
RJ45 Plug for Cordsets
Connector type: RJ45 plug, shielded
Contact material: phosphor bronze (CuSn)
Contact plating: gold (Au) 1.3 um (50u")
Contact under-plating: nickel (Ni)
Housing material: polycarbonate, UL94V-0
Durability/Mating cycles: 500 cycles minimum
Max. current and voltage: 1.5 A and 125 V
Withstand voltage: 1000 VAC
Contact resistance: 20 milliohms maximum
Insulation resistance: 500 megohms minimum
Hazardous substances: ELV and RoHS compliant