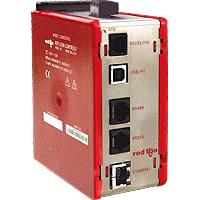 Specifications:
Multi-zone PID Control Applications
Supports up to 16 Modular Controller Series Modules
Stores Module Configuration Information and Automatically Reprograms Replaced Modules
Extensive Built-in Driver List Allows Easy Data Mapping to PLCs, PCs, and SCADA Systems
2 RS-232 Serial Ports
1 RS-422/485 Serial Port
10 Base-T/100 Base-TX Ethernet Port
Independent Serial Ports Provide Virtually Unlimited Integration Methods
Accessories
Click on the accessory types below to view accessories related to this product.
Batteries
Modules
Option Cards
Replacement Parts
Solid State Relays
Online purchasing is not available in this region. Please click here to locate a Red Lion distributor in your area.
This product is currently unavailable for online purchase. Please contact Customer Service at +1 (717) 767-6511 or customer.service@redlion.net for more information.