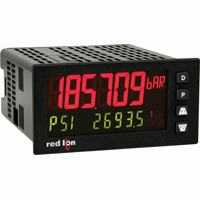 Specifications:
Load Cells, Strain Gage, and Pressure Sensors
Universal Power Supply: 40 to 250 VAC or 21.6 to 250 VDC
Built-in USB Port
Meter Update Rate up to 160/Second
Built-in Modbus Communications
Setpoints: Dual and Quad Relay; Quad Sinking and Sourcing (W/Option Card)
Retransmitted Analog Output (W/Option Card)
Communications: RS-232, RS-485, DeviceNet, and Profibus (W/Option Card)
Accessories
Click on the accessory types below to view accessories related to this product.
Enclosures
Labels
Modules
Mounting Kits
Option Cards
Supressors
Online purchasing is not available in this region. Please click here to locate a Red Lion distributor in your area.
This product is currently unavailable for online purchase. Please contact Customer Service at +1 (717) 767-6511 or customer.service@redlion.net for more information.