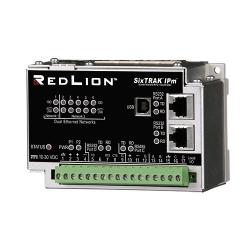 Specifications: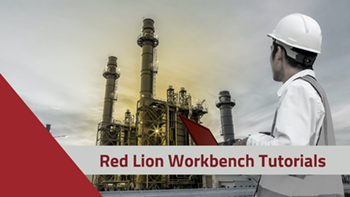 Performance Specifications
Industrial PowerPC (32 bit data bus)
Operating system: embedded LINUX
Dynamic memory (RAM): 512 MB (478 MB Available)
Program memory (Flash): 512 MB (272 MB for application data and programs)
Data Logging Memory RAM: 8 MB (Battery backed)
Datalogging: Sixnet SixLog or Red Lion Workbench
IEC 61131 Programming: Red Lion Workbench (Sixnet ISaGRAF is supported for backward compatibility)
 
Power Input
Input Voltage: 10-30 VDC
Steady Input Current: 150 mA @ 24 V (6.2 W max.)
Inrush: 3.0 A / 60 μs @ 24 VDC
BTU/HR: 12.29
 
Switch Properties
Operation: Unmanaged
Number of MAC Addresses: 2
IEEE Compliance: 802.3u, 802.3x
Protocols: TCP/IP, ARP, UDP, IGMP, DHCP, Modbus UDP/TCP, Sixnet UDR, Modbus
ASCII/RTU
Latency (typical): 10 Mbps: 16 μs, 100 Mbps: 5 μs
Switching Method: Store-and-Forward
Maximum Throughput: 90 Mbps (Network 2)
MDIX Auto Cable Sensing
Auto Sensing Speed and Flow Control
MTBF: >820,000 hours per MIL-HNDBK-217F2
 
Connectors
Ethernet Ports

Independent Networks with Unique MAC & IP Addresses
Network 1 Port: One (1) shielded 10/100Base-T(X) port
Network 2 Ports: Five (5) shielded 10/100Base-T(X) ports

Serial Ports

Supports speeds up to 115,200 baud
RS-232 (Port A): RJ45 (TD, RD, CTS, RTS, CD, DTR, DSR, GND)
RS-232 (Port B): RJ45 (TD, RD, CTS, RTS, CD, DTR, DSR, GND)
RS-485 (Port C): Screw block (485+, 485-, GND) 2- wire half-duplex half-duplex, isolated 1,500 Vrms
RS-232 (Port D): Screw block (TD, RD, RTS, CTS, GND) isolated 1,500 Vrms
USB Port: Type B for diagnostics only
 
Network Media
10BaseT: >Cat3 cable
100BaseTX: >Cat5 cable
 
Recommended Wiring Clearance
Front: 3" (7.62 cm)
Top: 2.5" (6.35 cm)
 
Environmental
Operating Temperature Range: -40 °C to 70 °C
Storage Temperature: -40 °C to 85 °C
Operating Humidity: 10% to 95% (non-condensing)
Operating Altitude: 0 to 2,000 ft.
Shock: IEC60068-2-6; Half Sine, 31 G, 11 ms duration
Vibration: IEC60068-2-27; 9-200 Hz 2 G, 200-500 Hz 1.5 G
 
Certification & Compliance
Hazardous Locations: ISA12.12.01, CSA C22.2/213, Class 1, Division 2 Groups A, B, C, D
Electrical Safety: UL 508, CSA C22.2/142, IEC61010-1, CE
EMI Emissions: FCC part 15, ICES-003, Class A, EN61000-6-4, CE
EMC Immunity: EN61000-6-2, CE
Flammability: UL 94V-0 materials
 
ATEX (Zone 2)
Protection string:  II 3 G Ex ec IIC T4 X
Ambient temperature range: -20 °C ≤ Tamb ≤ 65 °C
Use field wiring with insulation rated to at least 105 °C
Standards evaluated for ATEX: IEC 60079-0 Edition 7.0, IEC 60079-7 Edition 5.1
The equipment shall be installed in an enclosure that provides a degree of protection
not less than IP54 in accordance with EN/IEC 60079-7 and used in an environment
of not more than Pollution Degree 2 in accordance with EN/IEC60664-1 when
applied in Zone 2 environments. The enclosure must be accessible only by the use
of a tool.
 
Mechanical
Case Dimensions:

Height: 3.17" (8.05 cm)
Width: 4.75" (12.07 cm)
Depth: 3.00" (7.62 cm)

Weight: 0.75 lbs (0.34 kg)
Mount: DIN rail 35 mm or flat panel mount
Product Manual
Installation Guide
Dimension Drawing
Data Sheet
Accessories
Click on the accessory types below to view accessories related to this product.
Connectors
DRRJ45T8
-
RJ45 Connector to Terminal Adapter
Power Supplies
PSDR030W
-
24 VDC Power Supply @ 30 Watt
PSDR060W
-
24 VDC Power Supply @ 60 Watt
PSDR095W
-
24 VDC Power Supply @ 95 Watt
Software
Solid State Relays
Cables/Surge Arrestors