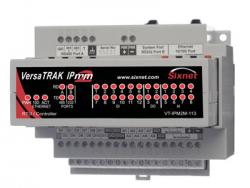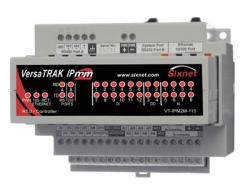 Specifications:
Performance Specifications
Industrial PowerPC (32 bit data bus)
Operating system embedded open-source Linux
Dynamic memory (RAM) 32 Mb for program execution, dynamic variables, dynamic file system, etc.
Program memory (Flash) 32 Mb for Linux OS, program storage and file system
Retained memory (RAM) 512K (battery-backed) for datalogging and retained variables
Real-time clock battery-backed for time stamping and other operations
I/O Expansion RS-485 or Ethernet
Datalogging support
IEC 61131 programming, ISaGRAF for ladder logic, SFC, flow charting and more (6 languages supported)
High Level C programming
Ethernet Port 
10/100BaseTx (auto-detecting)
RJ45 connection (auto-crossover)
Protocols TCP / IP, ARP, UDP, ICMP, DHCP, Modbus / TCP, Sixnet®, optionally PPP, DNP3, IEC60870-5-101/104 and more
Serial Port 
Up to 115,200 baud
RS-485 Port A screws (485+, 485-, GND) (2-wire half-duplex)
RS-232 Port B RJ45 (TD, RD, CTS, RTS, CD, DTR, DSR, GND)
Protocols Master and slave modes; Sixnet and Modbus RTU / ASCII;  optional: Slave; DNP3, IEC60870-5-101/104. Others available as Linux applications     
Discrete Inputs
12 channels sourcing or sinking (jumper/software selectable)
Guaranteed ON voltage 9 VDC
Maximum voltage 30 VDC
Guaranteed OFF voltage 5.0 VDC and 1.5 mA DC
Input resistance and current 10K Ohms and 3 mA @ 24 VDC
Filtered ON/OFF delay 25 mS (20 Hz max. counting) for contact bounce filtering
Fast ON/OFF delay 4 mS (100 Hz max. counting)
Count rate (see above) (10 KHz on channel 1 only)
Counter modes pulse, rate and run time
Poll time (all channels) 5 mS to 20 mS configuration dependent
Discrete Outputs
4 channels – sourcing 10-30 VDC
Min. and max. output load 1 mA to 1 Amp sourcing per channel
Max. OFF state leakage 0.05 mA
Inrush current 5 Amps (100 mS surge)
Typical ON characteristics 0.3 Ohms resistance and 0.3 VDC voltage drop @ 1A
Poll time (all channels) 5 mS to 20 mS configuration dependent
Analog Inputs
8 channels – current or voltage selectable
Full scale range 4-20 mA or 0-5 VDC (jumper selectable)
A/D and input resolution 16 bits (0.003%); 2 uA (current range) or 0.5 mV (voltage range)
Full scale accuracy +/-0.1% (@20°C) (factory calibration)
Span and offset temp. coeff. +/-50 ppm per °C
Input impedance 100 Ohm (current range), 80 K Ohm voltage
Current protection Self-resetting fuses (for 4-20 mA range)
DMRR 66 dB at 50/60 Hz (differential mode rejection)
CMRR (common mode rejection) Not applicable since analog inputs are single ended.
Fastest update time 50 mS (both channels) – configurable for longer integration times for better noise filtering
Environmental
DIN-rail or panel-mount
Input power 10-30 VDC
Input current 100 mA @ 24 VDC (typical)
Temperature -40 to 70°C (-40 to 85°C storage)
Humidity 5% to 95% RH (non-condensing)
Flammability UL 94V-0 materials
Electrical safety UL 508, CSA C22.2/14; EN610101; (IEC1010)
EMI emissions FCC part 15, ICES-003, Class A; EN55022; EN61326-1
EMC immunity EN61326-1 (EN61000-4-2,3,4,6)
Surge withstand IEEE-472 (ANSI C37.90)
Vibration IEC68-2-6
Hazardous locations (Class 1, Div 2, Groups A,B,C,D) UL 1604, CSA C22.2/213, Cenelec EN50021 Zone 2
Tested to Marine/offshore standards
Product Manual
Installation Guide
Dimension Drawing
Data Sheet
Accessories
Click on the accessory types below to view accessories related to this product.
Cables and Adapters
Connectors
DRRJ45T8
-
RJ45 Connector to Terminal Adapter
Power Supplies
PSDR030W
-
24 VDC Power Supply @ 30 Watt
PSDR060W
-
24 VDC Power Supply @ 60 Watt
PSDR095W
-
24 VDC Power Supply @ 95 Watt
SFP Transceivers
Software
Solid State Relays
Cables - Fiber
Cables/Surge Arrestors